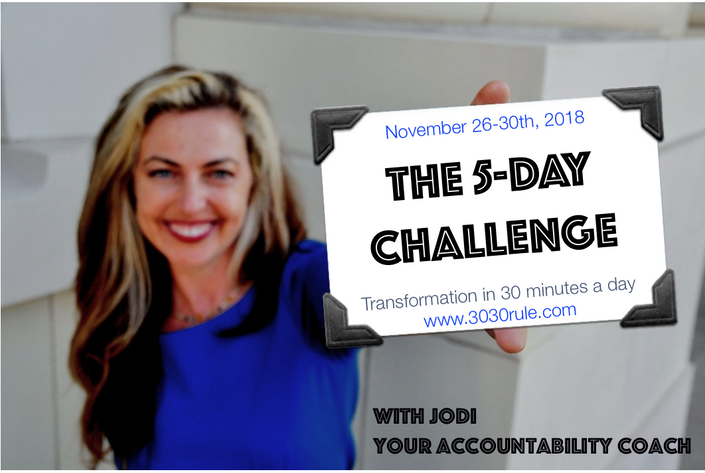 The 5-Day Challenge from November 26-30, 2018
In 5 days make more progress on an important project than you have all year. FINALLY, get that thing done! Join now and GET MOMENTUM!
The 5-Day Challenge: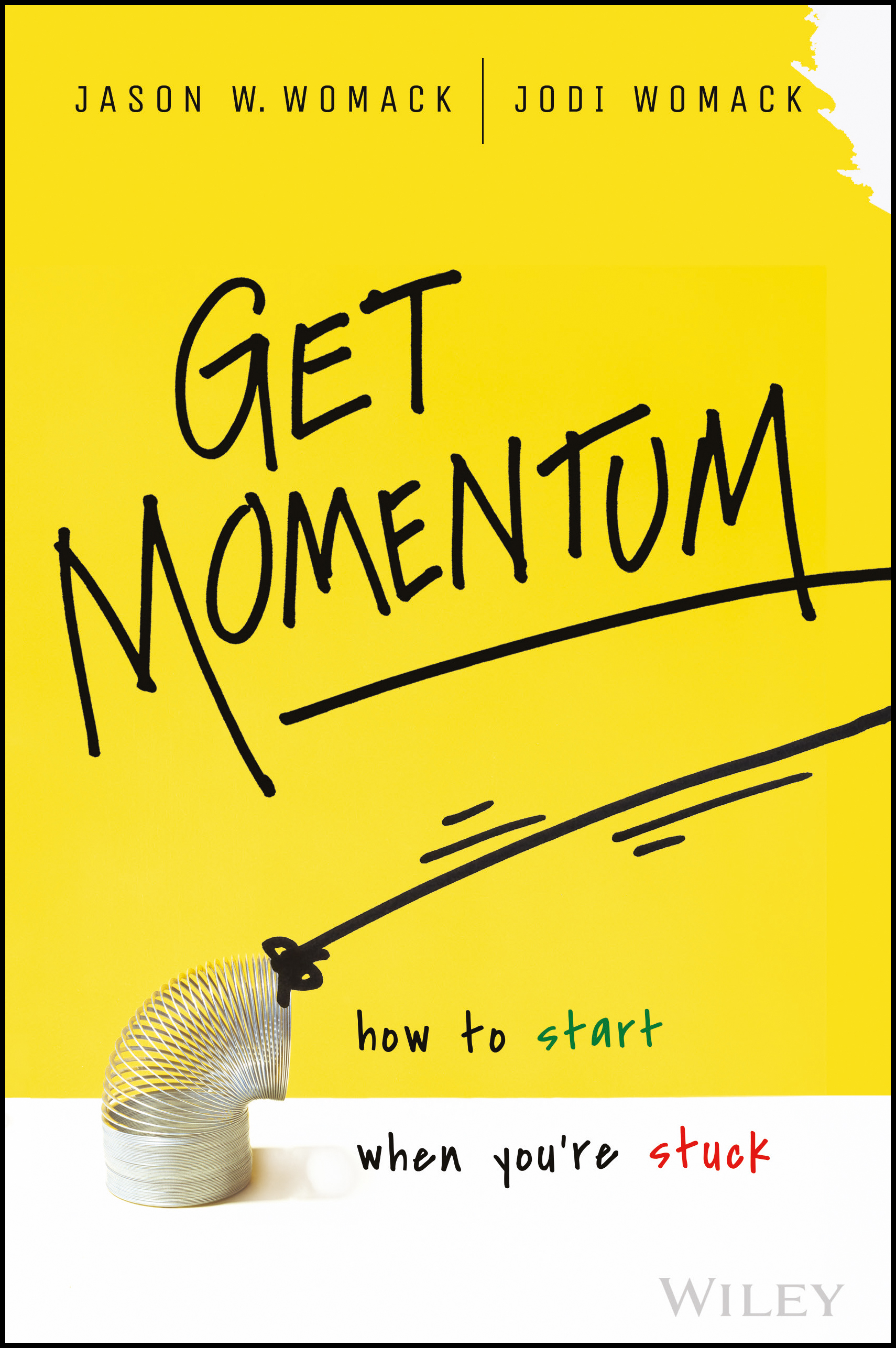 Once a day for 5 days - with Jodi Womack as your accountability coach - you will schedule and complete a "30/30" work session. In the best-selling book, GET MOMENTUM, we call this "The 30/30 Rule."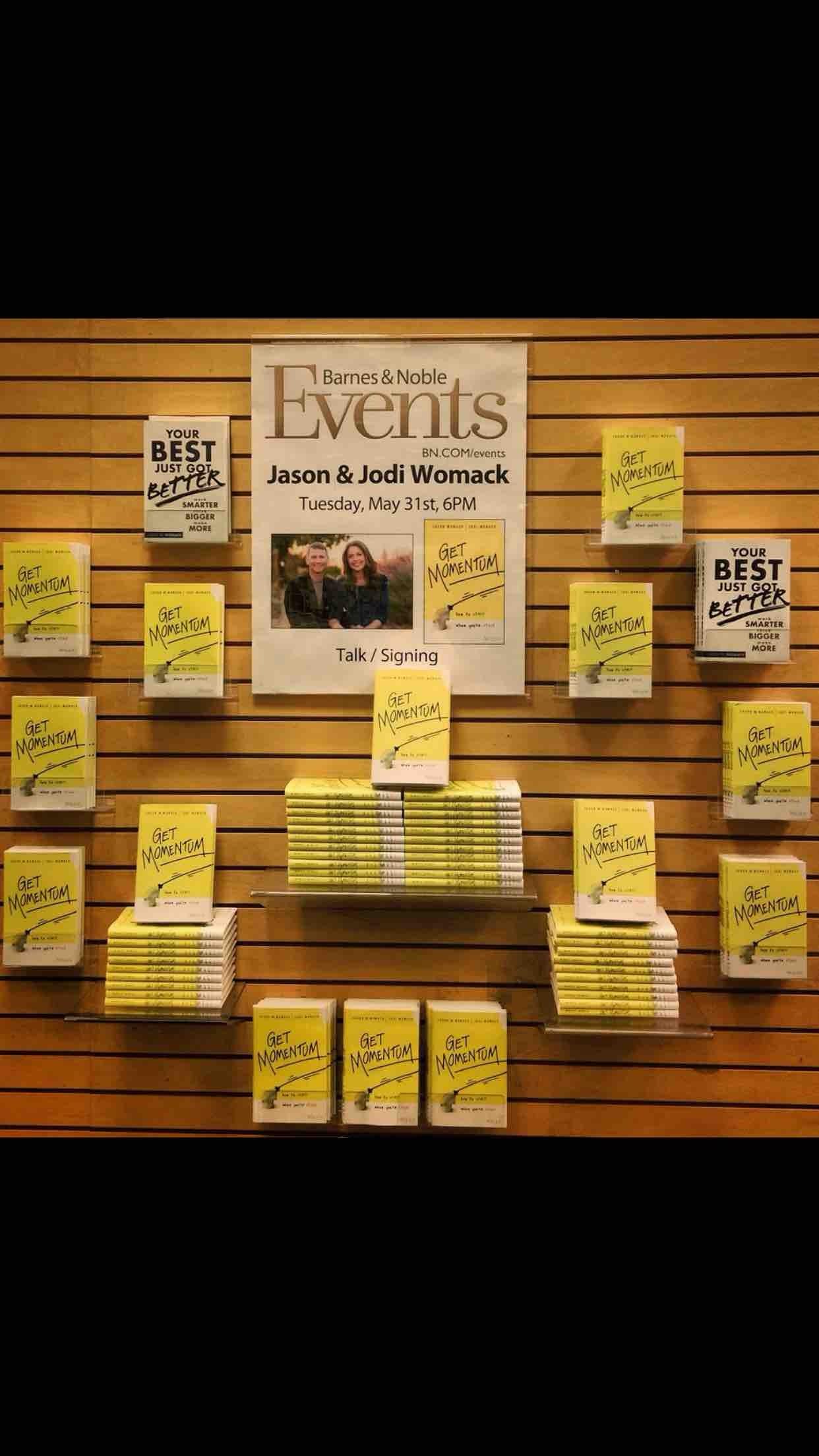 What is "The 30/30 Rule"?
The productivity rule that says, "Spend 30 minutes working on something that is 30 days away." Jason and I have spoken on this Productivity and Leadership tool in more than 20 countries and 47 states. We've shared this strategy with entrepreneurs, executives and book readers, and I am 100% sure it will work for you!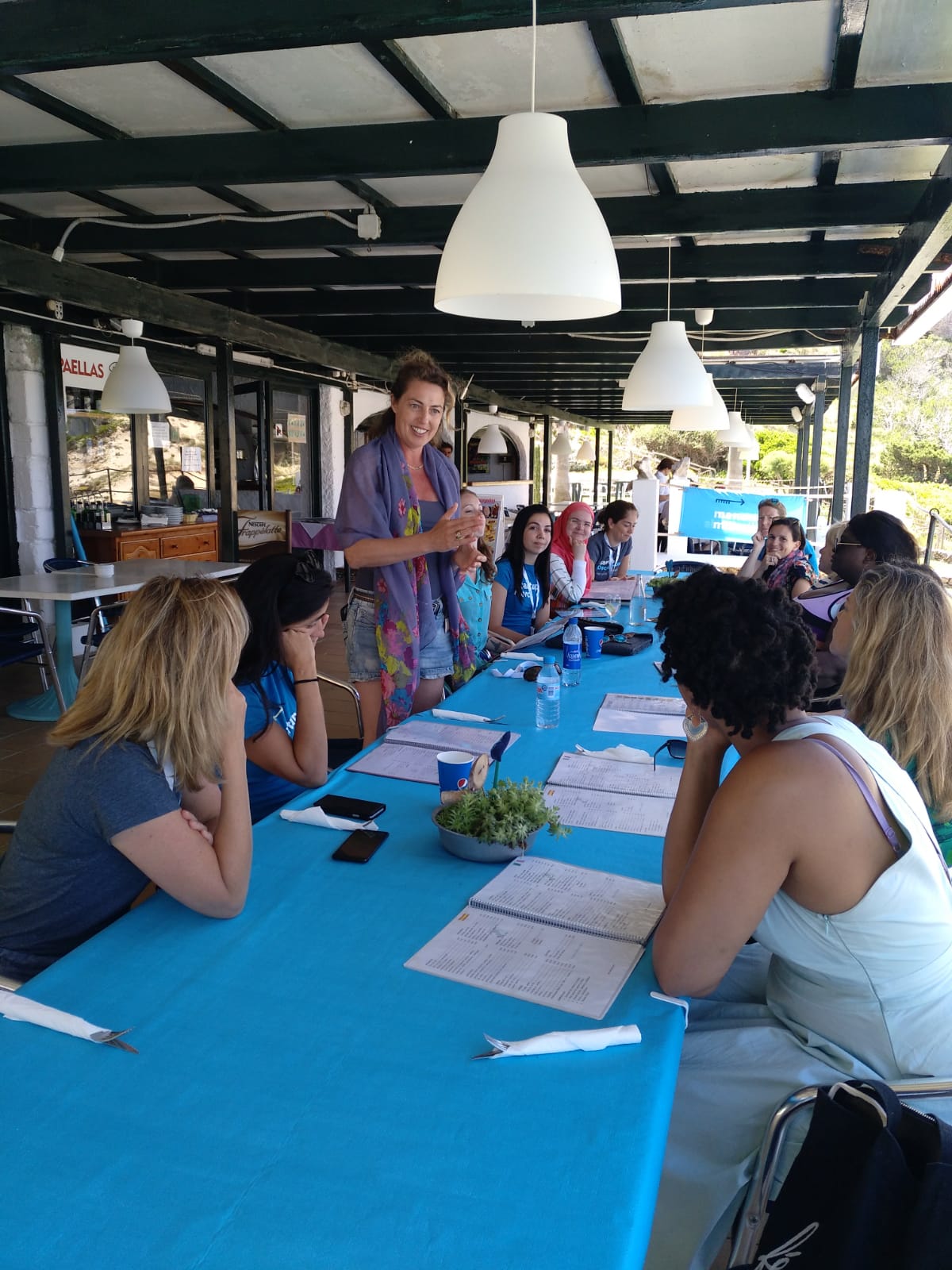 Here's the key:
These 30 minutes are going to be: undistracted, uninterrupted, completely-intentional and focused on your one thing.
3 EASY STEPS to GET MOMENTUM and join the 5-Day Challenge:

1. Click the big blue button to ENROLL in the 5-Day Challenge.
2. Fill in the short enrollment form (name, email, etc.).
3. Add Reminders to your Calendar (here) to check in with Jodi.
That's it!
In the past, coaching clients (like you) have gone through this 5-Day Challenge and said they made more progress in 5 days on something REALLY IMPORTANT than they had in years!
Start by clicking the blue button that says "Enroll."
You'll be hearing from me soon.
This is a really accountability coaching program, so get ready to roll up your sleeves and get some great work done!

To your momentum,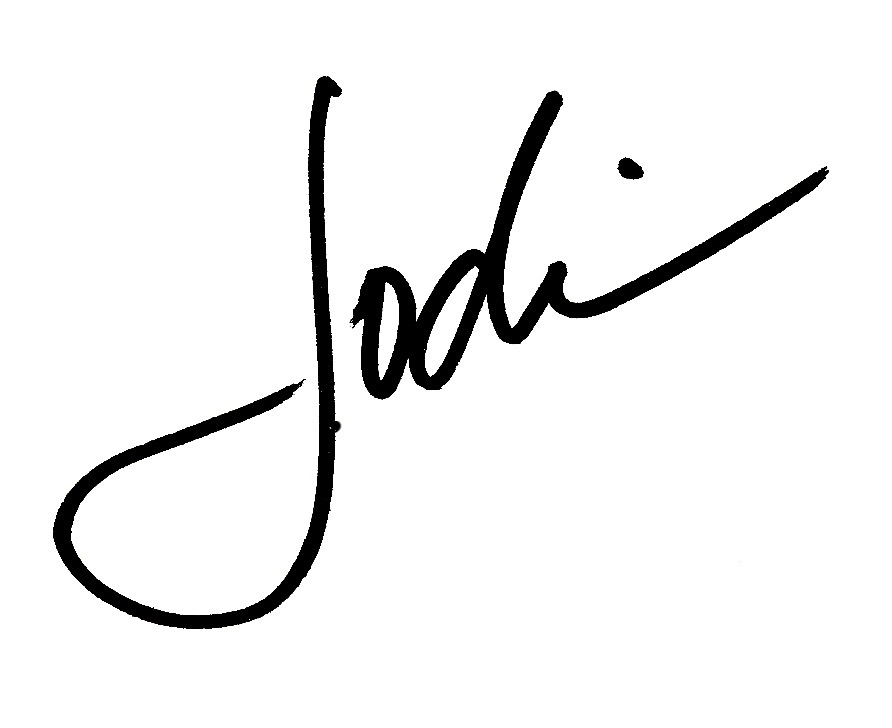 Jodi Womack
Your Accountability Coach
PS: You can add this 5-Day Challenge to your calendar - automagically - if you click here.
Your Instructors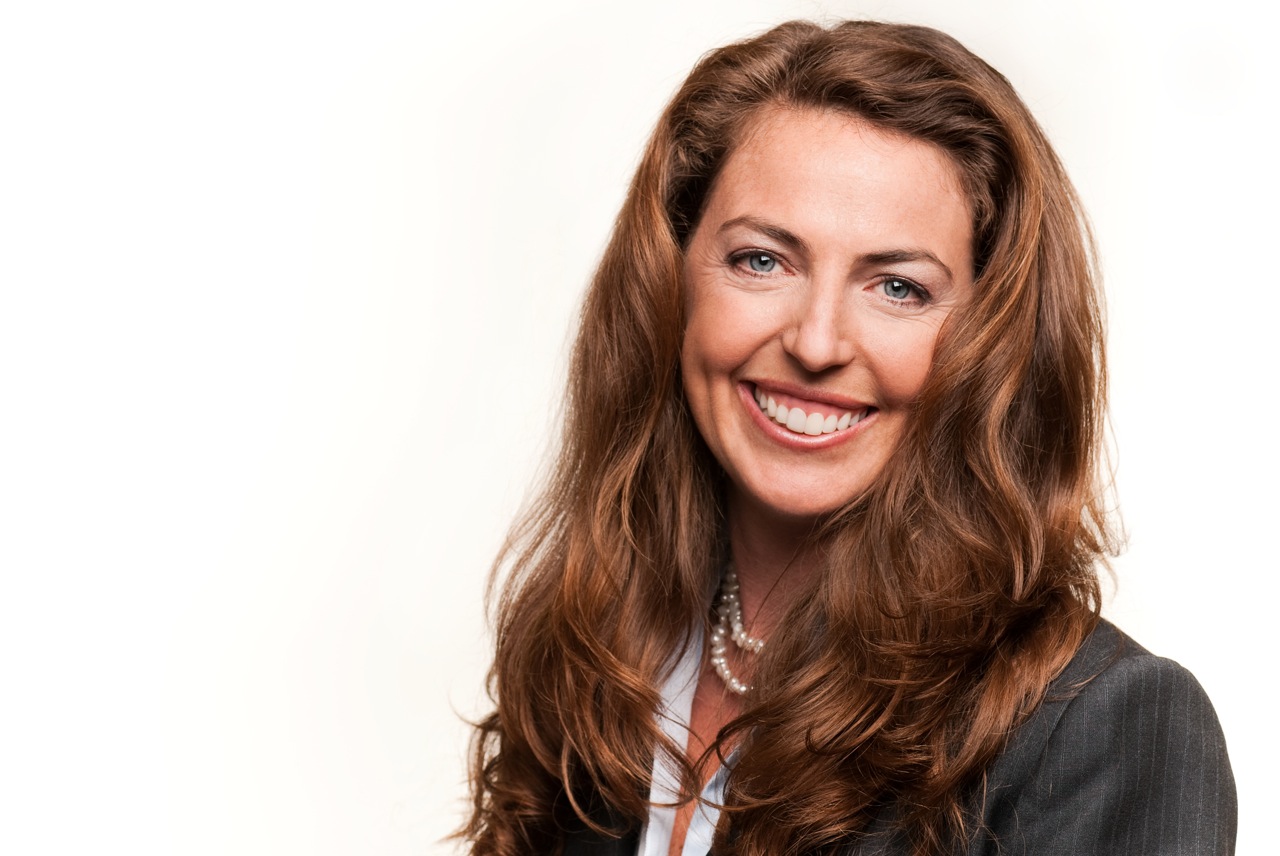 Jodi Womack is an executive coach, speaker and author who co-founded the Get Momentum Leadership Academy with her amazing husband, Jason Womack.
She created this free 5-Day Challenge after coaching hundreds of Get Momentum members worldwide who said they have projects they've been meaning to work on, but just never have the time.
By creating 30-minute work sessions for 5 days in a row, people shared they made more progress in 1 week of accountability support than they had in years trying to do it on their own...
Course Curriculum
Ok, you're in! Now click START next to each item below
Available in days
days after you enroll
Frequently Asked Questions
When does the course start and finish?
The 5-Day Challenge runs for 5 days. You'll get a few emails from Jodi as soon as you enroll in this accountability program. (Make sure you "White-List" those emails!)
What is The 30/30 Rule?
It's more than a rule; it is the way to change your life for the better Once a day for 5 days, spend 30 undistracted, uninterrupted, completely-intentional minutes working on something that is 30 days away. Start with personal items like birthdays, travel plans and family visits. Perhaps you even start with 5 minutes instead of 30 minutes. Think of it like physical exercise… start this 5-Day Challenge the light weights and then - after a week - decide if you'll move higher! This is an investment in your future well-being. Your personal life. Your career. Your feeling of control and organization. When you work for 30 minutes on one thing, you'll gain momentum as you start projects early and get the ball rolling! If you've ever felt like the bottleneck at work holding up other people's work until you can review, The 30/30 Rule will be a game changer for you. Consider it an investment… as you put the time in now, it will have a compounding effect in a month with the productivity that's already started. These 30 minutes each day - for just 5 days - will change the way you live. They won't stop your boss from dropping a big project on you at the last moment or your kid telling you she has a science report due in the morning, but at least you'll have peace of mind about everything else on your schedule, and you'll never forget your dad's birthday again! PS If you have the Get Momentum book, check out pages 70-72 to read about The 30/30 Rule.
What if I am unhappy with the course?
I never want you to be unhappy... If you are unsatisfied with the program, simply unsubscribe from the emails. And, call me for a 100% refund. We'll talk by phone to see if there is a way I can help you GET MOMENTUM. If not, I'll refund your payment.
What is this 5-Day Challenge?
Once a day for just 5 days, you're going to spend 30 minutes working on a project that isn't due for 30 (or more) days. Every day during The 5-Day Challenge week, you'll decide early on WHAT you're going to work on and WHEN you're going to work on it. Then, by the end of each day, you'll add your comment to the Check In page. You'll share with the community what you worked on and if you feel like you're getting momentum.
Why 5 days?
I work with GET MOMENTUM members almost every day. People from all over the world (currently we have members in 11 different countries!). Over and over again, I see people making the same mistake. These are bright, successful, powerful people. Moms and dads. Leaders and managers. Corporate, non-profit, education and military leaders everywhere make the same mistake...do you know what it is? They make success too hard to achieve. Recently, I coached someone who said, "I just need to make 40 phone calls a day for the rest of the year." I said, "Let's start with the next 5 days..."
How much does it cost?
$297.00 So, pick a project that is worth $297 (or more!) for you to finish. Ready?
Is this for professional or personal projects.
It's up to you! Here are examples of what other busy professionals are working on: *Figure out how to keep Project Management Certification in good standing. *Create the company's social media plan. *Update my section of the Ops manual. *Write the content for my website. *Finalize annual award packages. *Make business holidays cards for past & existing clients.
This course is closed for enrollment.