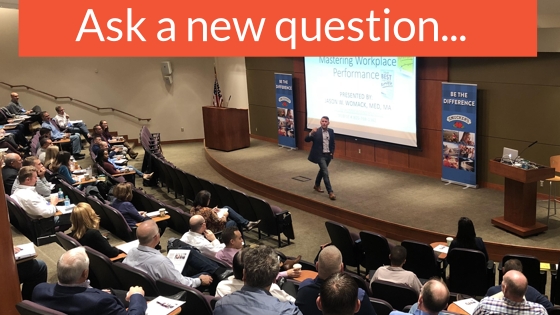 Want new opportunity to come your way? You've got to do TWO things:
Make Eye Contact

Maybe that means looking across the room (or subway, or coffee shop, or...). But it also can mean "Focus" on what's in front of you. Last week I spoke at a conference for more than 70 leaders in a successful bank in New York City. I asked this question:

"What if, on page 37 of that book on your desk that you haven't started reading yet, is the idea you need to launch your success as a leader?"

It's a big "What if"...isn't it?
Ask a New Question
Sitting here in my Ojai office, I can turn around and see a shelf of books. I just counted, and I've got 4 book titles that have the word "question" in them. Two of those books I recommend to every new Get Momentum member as "required leadership reading!"
The quality of your career and life will come down to the quality - and size - of the questions you're asking. If you want your life to change, if you want to deepen the relationships you have and the career opportunities you step into, you've GOT to change your questions.
As a member of the GET MOMENTUM Leadership Academy, we'll help you identify the questions you need to ask and coach you as you find the answers that can change your life.
Ready?
Start (scroll down HERE) by registering for the free on-boarding course at Get Momentum today.